There is nothing that screams fall in the candy aisle like a big bag of candy corn.  The vibrant colorful sweet treats can be used all in many settings as a Halloween decoration. Utilizing clear containers you can create quite a display without spending big bucks.  Save a few jars of from juice, jellies and pickles and you can create a lovely display for just a few bucks using items you have on hand. Let's take a look at our inspiration pieces.
One serving tray, a tiny pumpkin and recycled jars with some sweet candy corn and what looks like apple juice create quite the charming display.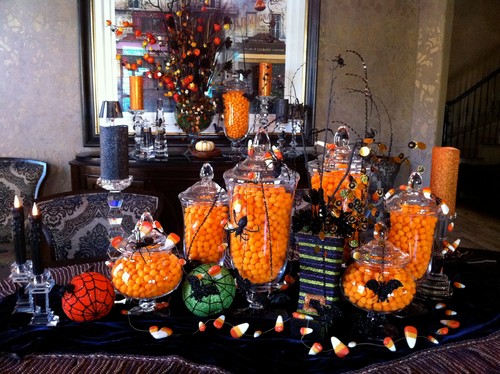 This exceptional designer used what looks to be cheese balls but you could mix up this design and use candy corn. However, why not use these? They are the same bright orange as candy corn and you can get a huge container for just a few dollars. I love the jar collection, these pieces can get pricy so just collect one or two over time and you will be decorating like a pro in a couple of years. Use mason jars, they look cool and have so many sizes these days that you can easily create the depth and height effect of this display.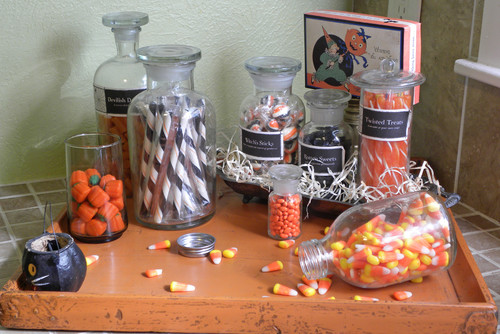 Clever little tray of this and that and these are tiny bottles so a bit less expensive than the 12 inches  and taller apothecary jars.
My favorite display of the day! Notice how the jar of candy corn amongst all the other colorful containers of different treats stands out in the crowd.
Ready to decorate with candy corn! Me too!