Learn How To Create A Happy Kitchen
How To Create A Happy Kitchen
In our previous challenge, we dove into the kitchen and tidied and organized our kitchen utensils.  I was completely surprised by how easy it was to find 12 items in this category to donate or toss.  I have never used an egg separator, but had three!  I am sure there is some beginner cook out there somewhere that will be blessed with at least one of my handy kitchen tools.
Did you find anything to donate or toss yesterday?  Remember we are learning to be Captains of our Kitchens!  It is up to us to reduce clutter so that we can easily tidy our kitchen throughout the day.
We need some eye-candy motivation! Because busy moms need the motivation to create a happy kitchen! And that is our plan today! We are going to learn how to create a happy kitchen alone with our clutter challenge.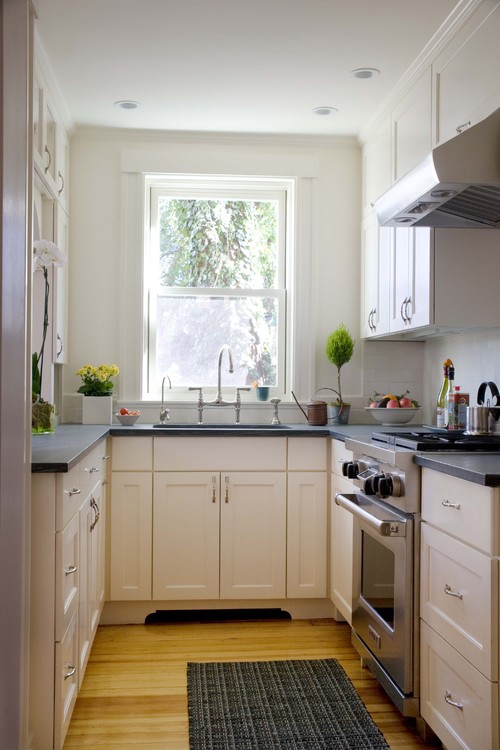 This super cute traditional kitchen is not large but it still looks very inviting. Yes, the shiny white cabinets help with the view, but it is the cleared counter space, bright window and fresh fruits and live plant that liven up this space.
What makes you smile when you prepare a meal for your family?
Is it the comfort of familiar recipes handing down from your
mom or grandma
?  Is it the children at the table working on homework or a toddler pulling at your pant-leg asking for a drink of water while you are wrestling a turkey breast into the baking pan?
My smile comes from all of these things as well as setting the table so that my children know that the meal together is special, even if it is just the three who still live at home.  I let them know by using our best dishes, real cloth napkins, and candles.  When you light a candle with little ones that know that the meal is important.  Real napkins add a formal feeling to the meal and you feel like one of those "green-living" moms because you are not contributing to the vast amount of waste to this country. 
"The transition from cloth to paper napkins began in

1887

, when John Dickinson used paper napkins at a company party in the United States. This change remained unformalized until

1931

when Scott Paper added them to the American market"  ~

Evolution of the Napkin
Consider today what makes you happy in the kitchen.  What brings joy to the room and what brings joy to your heart?  Your happiness in the kitchen as the Captain will reflect on how your family feels when they sit down for supper. (yes, mam, I am Southern)
How To Create A Happy Kitchen
Five Tips On How To Create a Happy Kitchen:
Clear the clutter from countertops and the kitchen table.  Clear spaces promote peace and also help get meals on the table in a more efficient manner.
Natural Light- Take advantage of natural light or add lights where you can. Open the curtains, raise the blinds, turn on the lights!  This will instantly make the room feel happier. Light is a natural mood booster.
Add Plants – Adding a live plant or keeping fresh flowers adds instant cheer to the kitchen. The vibrant colors paired with the fragrance are the perfect addition to your happy kitchen. Think fresh cut in seasonal flowers or bright green potted basil plants!
Make It Inviting – Create a happy kitchen environment that welcomes your family. Add a bowl of crisp apples or juicy oranges. Keep fresh vegetables cut up and ready to serve for snacks in the fridge. Create a small coffee and tea bar, and keep ice cold water flavored with fruit as a treat for the kids!
Add Things You Love –  Add accessories in colors you love to your happy kitchen. Think about adding a few framed photos of your children's artwork and framed photos of your family. Use these to create a collage of fun wall art. This wall will be a great conversation starter with friends and family.
These five simple tips are a great start to learning how to creating you happy kitchen.
Download our free workbook to help keep you motivated throughout the 40 Day Clutter-Challene. Totally free to subscribers of our totally aweosme newsletter!
TODAY'S 40 Day Clutter CHALLENGE
 Today's challenge is in the kitchen.  Go through your table linens and kitchen towels.  Add the towels that are filled with holes in the rag bag. Next, add the linens with so many stains that you just can't bare for folks to see them in the trash bin or cut them up and use them as rags.  If it is an heirloom and has a stain, pop it in a bag and take it to the cleaners to see if they can suggest a cleaning method.
Secondly, go through small kitchen appliances and other odds and ends in the cabinets.  If you use it and love it then keep it.  If you no longer use it, never used it, or it is broken beyond repair than donate it or toss it.  Pretty Simple.
[bctt tweet="Our goals is to tidy and declutter for 22 minutes or less each day and to donate or toss at least 12 items. "]
Our goal is to tidy and declutter for 22 minutes or less each day and to donate or toss at least 12 items.
TOMORROW – We finish decluttering the kitchen!
I hope you enjoyed this post, if so, please share with your friends about creating a happy kitchen.
Have a wonderful day,
Momma