Inspiration: White, white, white…. might be a little more high maintenance for moms with little ones at home.  However, just look at the vegetables popping with color. Such a visual encouragement too cook a healthy meal.
Inspiration:  I love the luster of these cabinets. I also appreciate the bold handles to encourage family members to use the handle and not the wood of the cabinet door for opening and closing.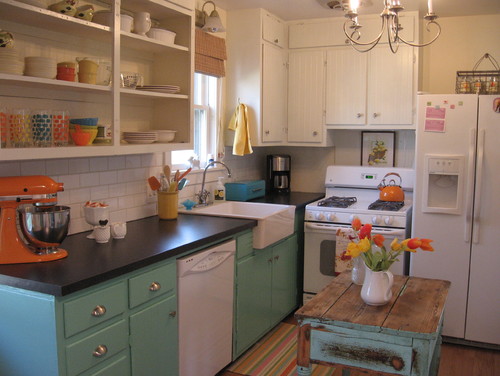 Inspiration: This kitchen simply makes me happy. Vintage eclectic with my favorite flower peeking at me atop a wonerful little prep table.
Simple Daily Challenge – Home Management Boosters for Busy Moms -The Kitchen
Take five to ten simple minutes today in the kitchen.  Before you begin, make sure the you have washed up the dishes, either using the dishwasher or the sink. This will will make the challenge so much simpler. If you have an extra pair of hands around the house ( hubby, teenager, or older school aged child) have them help out!
With a cleaning solution or your choice that is safe for your cabinets, wipe down the fronts of the cabinets.  Pay extra special attention the the cabinets you use the most. As you wipe, you may discover a loose pull or handle, if so grab as screw driver and tightened it up. Those drawer pulls can get lost super quick if you have little ones around and they are loose.
Don't you just love a shiny cabinet?