31 Day Clutter Crusade – Day 14 – Dishware
A table, a chair, a bowl of fruit and a violin;
what else does a man need to be happy?
Albert Einstein
Note from momma: Notice how Einstein did not say 13 purple plastic bowls and 16 mix-matched plates from our college years.
Yes, today we are decluttering our  every-day dishware. The plates, bowls, saucers and tea cups that hoard precious space in our kitchen cabinets.
31 Day Clutter Crusade -Dishware
How many dishes does it take to run a household? 
If you have 2 children and a spouse you multiply 3 x 4 and get 12.  So at the very most 12 plates are plenty even if everyone is home for lunch.  Just 12, not 48, not 57.  If you like a tidy kitchen and wash up right after each meal you can get away with 8 or even less if you are super industrious all day in the kitchen.
I personally have 16 dinner plates because I use them at Christmas and other special occasion as many would use  China. I am not of the fancy China in the cupboard team. I use everyday white for special dinners and occasions and am totally okay with the simplicity of it all.  However, most days we use the goofy Fiestaware we purchased when we got married.  An array of random colors that we just happen to love eating all of our meals from most of the time.  Dishware is a very personal thing and as it should be!

But we cannot let it take over so much territory that it prevents us from having a nice meal because we are overwhelmed with trying to find a spot to put a meal together and are terrified of opening the cupboard door for fear a teetering salad plate will come crashing down on our heads.  That is when cluttering is winning and that is why we are here.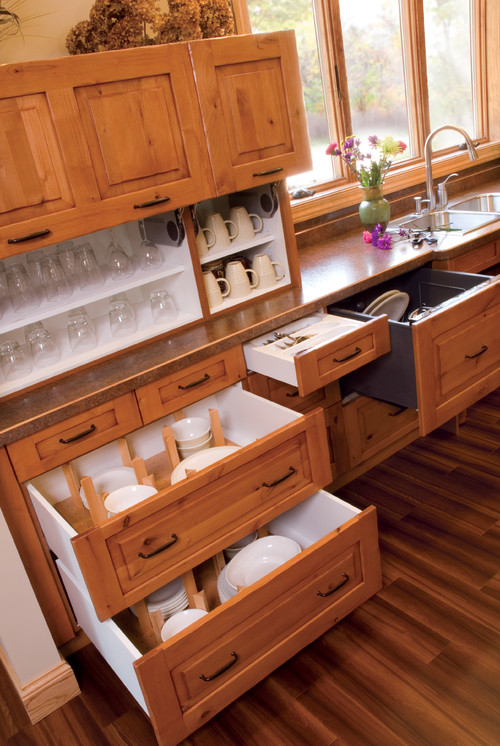 Let's Begin:
Take all the everyday dishware out of the cabinet for five minutes – if it takes longer than five then just work with what your remove in the first four minutes.  (This allows time for 24 dinners plates with matching cups, saucers and bowls)
 The next six uninterrupted minutes are for decluttering and putting away the keepers, the last-minute is for taking your donation to the car and the trash to the outdoor container, if needed.
Keep It – If it is so perfect and so loved that you just cannot bare to part with it and it has no broken bits, chips or cracks.
Donate It- If you have tons of surplus and can part with it, it has no sentimental value and you have so many plates, bowls and saucers it is a hazard to open the cabinet then please donate some. Remember donations are a way of letting someone in need have wonderful dishes to serve their families and just think of the joy it would bring to these folks.
Trash It – If it is cracked, chipped, splintered or in any way broken and is not a special family heirloom then trash it.
Paper Plates and things –  If you have a wonderful set of dishes and have been hoarding countless paper plates, bowls, foam etc.. from this and that then let it go! You are paying rent or a house note every month and each and every inch of your home is precious.  Bag up those paper plates and take them to a church or shelter that serves  meals to the needy. Your good deed will be a shining star in your heart and your cabinet will be neater in your kitchen! It is a double blessing.
Put all the dishes away as you sort and take your donation box to the car as soon as your are finished, as well as, emptying the trash.
Here is the 31 day Clutter Crusade Guide for the Month
You can right-click this photo and save it to your desk top or print it and share it with friends. Give Mommacan.com some love by tweeting you progress or sharing on Facebook with the hashtags #cluttercrusade or  #mommacan.com. I am mommacansing on Twitter.
Clutter Day One – Top of Your Desk
Clutter Day Two – A Drawer Clutter
Day Three – The Medicine Cabinet Clutter
Day Four – One Pantry Shelf Clutter
Day Five – Flatware Clutter
Day Six -Toys Clutter
Day Seven- Towels
Day Eight -Coats
Day Nine -Handbags
Day Ten -Books
Day Eleven – Shoes
Day Twelve – Underthings
Day Thirteen – Cosmetics