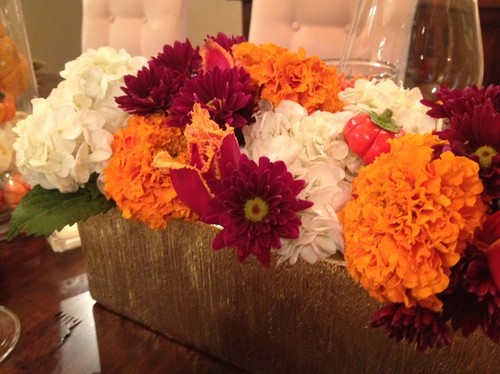 Gorgeous table setting in simple fall colors.  Love this one and probably easy to make at home with floral tape, a water proof lining to protect the wood container and fresh flowers. ( put the lining in the container to make it leak proof, criss-cross the floral tape on top of the container and add flowers and water.)  I have no idea how I know this, probably my mom put it in my ear and I remembered.
Loving this fall porch with the super sized mums, you can often find these at Costco and they are not super expensive.
An explosion of fall colors with small pumpkins to add whimsy.
This mural artist has taken the traditional fall palette and made a wonderful mural to bring the glory of fall into everyday life for this home.  I really love fall colors, they are so full of wonderful memories for me, autumn's serenade, jumping in a huge pile of leave at my Granny Opal's house, Halloween and large Vega family Thanksgivings.  Hooray for Fall!