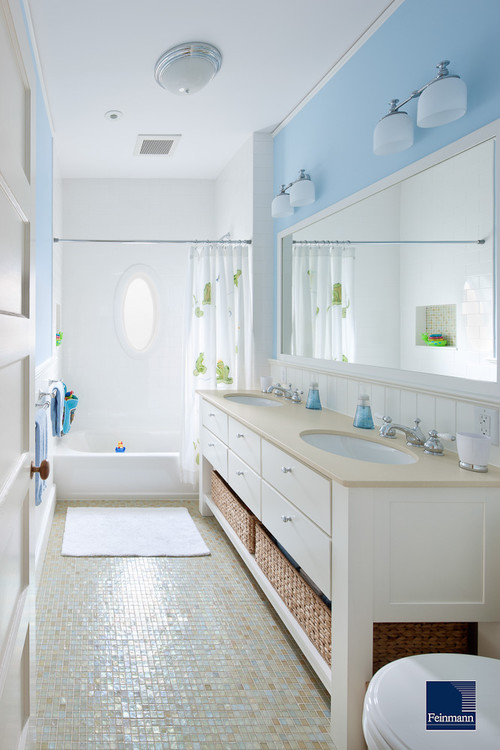 ( I just adore the simple lines and the joyfully sky blue painted walls in this bathroom!)
Messy Children's Bathroom Take One
Is your child's bathrom a mess? I know my my little boy's bathroom is a mess on many occasions.  I have laxed a bit on him tidying up because school and life sometimes get realy busy and I just feel too tired to lay down the tidy bathrom law some days.  There are always:
Towels on the floor.

Toothpaste ickies on the sink.

Dental floss sticks lined up like toy soldiers on the side of the bathtub. ( okay, that one is a little strange)

Dirty socks here and there.

And at least one light saber blocking the door at all times.
So today we are going to have a little clean-up session.  My son wants to have a friends over to play, so I have the perfect motivation for him to get his chores finished lickety split!
Simple Daily Challenge: Teach your little ones how to pick up their clothes and hang up their bath towel.  Monitor the older children into putting all their stray items back in place!  I love a Simple Daily Challenge where I am the job boss!
Have a rocking day moms! See you tomorrow for Take Two!