Declutter Clothes and Taking Care of You
Declutter Clothes and Taking Care of You
Hi, friends. Today we are going to talk about Declutter Clothes and Taking Care of You!  Welcome to today's  40 Day Clutter challenge. Our goal is to tidy and organize for 20 minutes per day and to rid our homes of at least 12 items of clutter per day.
We are working on our closets and chatting about self-care.
Being a mom is an exhausting task. This task can feel overwhelming without adequate sleep, excellent nutrition, and exercise. I know we get tired of hearing the band play that same old song, again and again, but it is totally true!
Taking Care Of You
Taking care of you is essential for a happy home. The success of your home greatly depends on your energy, attitude, organization skills, and planning.  Attitude is absolutely high on the list of importance. Our positive attitude spreads its beautiful joy through our home. If we are down, the family is down.  That old saying is true, '"f momma ain't happy, ain't nobody happy!"
How to Get Your Happy and Take Care of You!
Establish Routines – Make sure you have set morning, afternoon, and evening routines for you and the kids. ( Children need routine, especially during the school-age years)
Get some Sleep -Make sure this routine including setting up a nighttime schedule that will allow adequate sleep for the children and YOU!
Plan meals with healthy whole foods in mind. Consider this awesome reference and try the Whole 30!  This is an excellent way to jump-start a healthy eating lifestyle.
Get moving – Grab your calendar and schedule in 30 minutes of movement each day.  Seriously, adding a 30-minute walk to your day will boost your energy and your happy levels. Check out Leslie Sansone Walk App, I wrote about it in this post.
Schedule in some downtime. Make time for Church or mediation. Whatever it is that gives your spirit a boost. I can have a really rough day, but when I get to Church I just feel better.  I also get jazzed for a drive in my car listening to Audible books. Mom-time is a must for a happy home.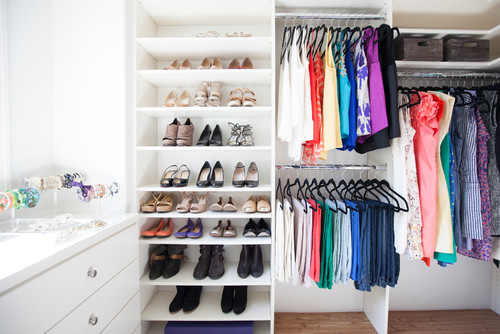 Declutter Clothes and Taking Care of You
Taking Care of You is important! Another aspect of self-care is having a closet of clothes that we can wear comfortably and feel good about how we look in them!  I personally have fallen in love with Stitch Fix for finding clothes that fit my body!   I highly recommend busy moms to check it out!
Today's Challenge:   Go through your clothes and remove any items that are never used, have never been worn, are too big or too small or just do not make you happy.
Decide what you want to keep and donate or discard the rest.
Challenge Part Two: If you have already minimized your wardrobe than use this time to declutter the bathroom.
Remember our goal is to rid our homes of 12 items of clutter per day.
The more I examine the issue of clutter, the more effort I put into combating it, because it really does act as a weight.

Gretchen Rubin
QUESTION:
Do you feel less weighed down as you remove clutter from your home?
TOMORROW
Children's Clothes, Extra Bathrooms